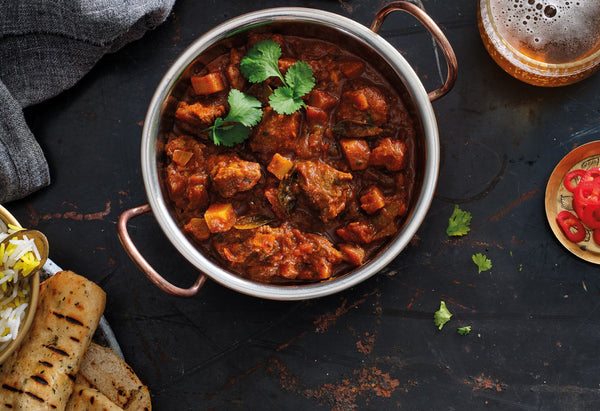 Railway Mutton Curry
A traditional Indian curry made with diced British mutton in a fragrant spiced curry sauce. 340g.
Oven Cook from frozen
British Mutton

Made in Lancashire

Supper Serving Suggestion

Serve this supper with a bowl of basmati rice, freshly chopped coriander and chapatis.
Allergy advice:

See ingredients in bold.
Ingredients
Mutton (26%), Water, Chopped Tomatoes (Tomatoes, Tomato Juice, Citric Acid), Onion, Potato, Tomato Puree (Tomatoes), Garlic, Ginger, Roast Lamb Stock, Demerara Sugar, Sea Salt Crystals, Coriander, Cornflour, Turmeric, Ground Roast Cumin, Chilli Powder, Red Chilli, Lemon Juice (Lemon Juice, Potassium MetabiSulphite), Cumin Seeds, Barley Malt Extract / Roasted Barley Malt Extract, Cayenne Pepper, Cinnamon, Fenugreek Leaves, Fennel Seeds, Dried Curry Leaves, Garam Masala (Ground Coriander, Ground Cumin, Ground Cinnamon, Ground Fennel , Ground Cloves, Ground Ginger, Ground Black Pepper, Ground Star Aniseed [May Contain Gluten, Wheat, Celery/Celeriac & Mustard] ), Star Anise, Ground Cardamom, Ground Clove Powder, Vegetable Oil
Cooking Instructions
Cook from frozen.
All appliances vary, the following are guidelines only. Remove all outer packaging and pierce film lid.
OVEN:
ELECTRIC: 210oC / FAN: 190oC / GAS MARK: 6.5
Place product in the middle of a preheated oven and heat for 20 minutes. Peel back the film, stir and place back in the oven for a further 15-20 minutes. Ensure food is piping hot throughout and allow to stand for 2 minutes before serving. Do not reheat once cooked.
Nutrition
Nutritional Information

Typical Values As Sold

Per 100g

Energy

433 kJ /104 kcal

Fat

4.9 g

- of which is saturates

2.1 g

Carbohydrates

6.9 g

of which is sugar

3.4 g

Fibre

1.0 g

Protein

8.0 g

Salt

0.69 g