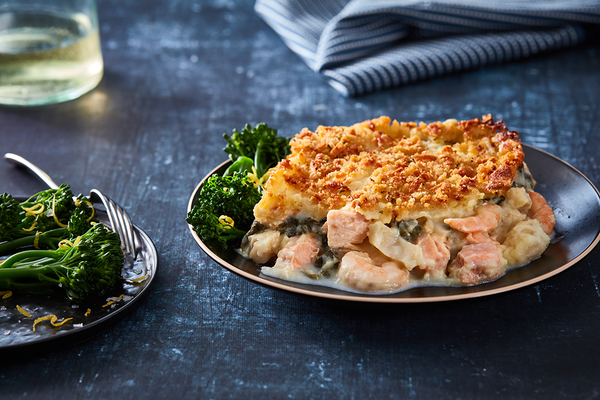 Fish Pie
Delicate pieces of cod, fresh and smoked salmon and king prawns cooked in a luxurious white wine sauce. Topped with creamy mashed potatoes, mature cheddar and breadcrumbs. 370g.
A bit on the side.
Why not serve your fish supper with steamed tenderstem broccoli and lemon zest.
A Perfect pairing.
Botham All Rounder Chardonnay
Pairing wine with Fish Pie is not always as easy as it looks. There are a range of big but delicious flavours and textures from the white wine sauce, smoked salmon, herbs and the crunchy cheddar topping which all risk overpowering a delicate white wine.  Look no further than the Botham All Rounder Chardonnay for your perfect match – there is lovely depth and structure thanks to the time spent in oak and a core of bright, ripe fruit to offset the big flavours and the fresh acidity on the finish cuts through any creamy richness from the buttery mashed potatoes. This mouth-watering pairing will leave you reaching for more of the luxurious fish pie.
Allergy advice:
See ingredients in bold.
Ingredients
Mashed Potato (37.8%) (Potato (Preservative: Sodium Metabisulphite), Butter (Milk, Salt), Double Cream (Milk), Semi Skimmed Milk, Sea Salt), Fish Sauce (27.8%) (Double Cream (Milk), Water, White Wine (Preservative: Potassium Metabisulphite), Onion, Whole Milk, Lemon Juice (Preservative: Potassium Metabisulphite), Modified Maize Starch (Modified Starch, Stabiliser: Acetylated Di-Starch Adipate), Fish Stock (Fish (Rehydrated Cod (Fish),  Fish Extract, Anchovy (Fish)), Partially Rehydrated Potato, Salt, Lemon Juice Concentrate, Dried Onion Powder), Olive Oil, Garlic Puree, Bay Leaf), King Prawn (Crustacean) (8.7%) (King Prawn (Crustacean), Salt, Stabilisers: Sodium Triphosphate, Sodium Polyphosphate, Sodium Phosphates), Cod (Fish) (8.1%), Salmon (Fish) (7.5%), Smoked Salmon (Fish) (3.6%) (Salmon (Fish), Salt, Natural Oak Wood Smoke), Spinach (2.6%), Breadcrumb (2.3%) (Wheat Flour (Calcium Carbonate, Iron, Niacin, Thiamin), Yeast, Salt, Olive Oil), Cheddar Cheese (Milk).
Cooking Instructions
Cook from frozen.
All appliances vary, the following are guidelines only. Remove all outer packaging including film lid.
Oven:
ELECTRIC: 210oC / FAN: 190oC / GAS MARK: 6.5
Place product in the middle of a preheated oven and heat for 35 to 40 minutes. Ensure food is piping hot throughout and allow to stand for 2 minutes before serving. Do not reheat once cooked. This product contains raw fish and shellfish and must be cooked throughout.
Nutrition
Nutritional Information

Typical Values As Sold

Per 100g

Energy

556 kJ /133 kcal

Fat

8.2 g

- of which is saturates

4.9 g

Carbohydrates

9.7 g

of which is sugar

1.2 g

Fibre

1.0 g

Protein

4.7 g

Salt

0.82 g