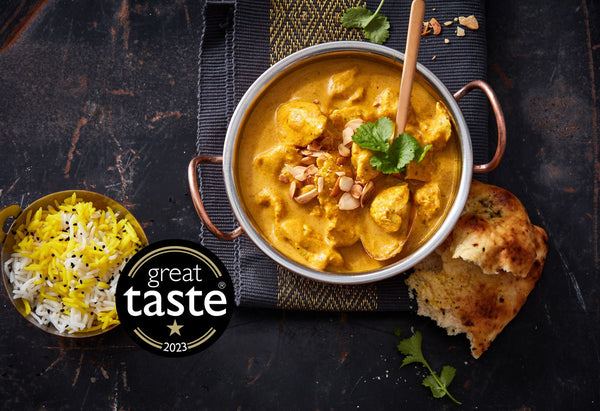 Chicken Korma
An award-winning mild and creamy curry made with British chicken breast pieces in a rich coconut sauce. 325g.
A bit on the side.
This supper dish goes beautifully with toasted naan bread and fluffy basmati rice
A Perfect pairing.
Botham All Rounder Pinot Grigio
Pinot Grigio has a pink skin and there is often a pink tinge to the best examples of the wines it produces. The pinkness gives a touch of ruby grapefruit and honeysuckle blossom on the palate– see if you can spot the subtle pink flecks in this wine and enjoy how they offset the creaminess of the coconut base in the sauce. The lovely fresh finish is mouth-watering and a great partner to the luxurious and exotic notes of Korma sauce.
Allergy advice:
See ingredients in bold.
Ingredients
Korma Sauce (67.7%) (Onion Puree, Single Cream (Milk), Coconut Milk (Coconut Extract, Purified Water), Water, Rapeseed Oil, Low Fat Yogurt (Milk), Coconut Cream (Preservative: Sulphur Dioxide), Sugar, Lemon Juice (Preservative: Potassium Metabisulphite), Tomato Puree, Ginger Puree, Garlic Puree, Modified Maize Starch (Modified Starch, Stabilizer: Acetylated Di-Starch Adipate), Roast Coriander, Roast Cumin, Sea Salt, Turmeric, Coriander, Garam Masala (Coriander, Cumin, Turmeric, Cinnamon, Black Pepper, Ginger, Clove, Dill Seed, Cardamom), Desiccated Coconut (Preservative: Sulphur Dioxide), Paprika, Chilli Powder), Chicken Breast (32.3%) (Chicken, Water, Corn Starch, Salt).
Cooking Instructions
Cook from frozen.
All appliances vary, the following are guidelines only. Remove all outer packaging and pierce film lid.
Oven:
ELECTRIC: 210oC / FAN: 190oC / GAS MARK: 6.5
Place product in the middle of a preheated oven and heat for 35 to 40 minutes. Ensure food is piping hot throughout and allow to stand for 2 minutes before serving. Do not reheat once cooked.

Nutrition
Nutritional Information

Typical Values As Sold

Per 100g

Energy

642 kJ /154 kcal

Fat

9.5 g

- of which is saturates

5.1 g

Carbohydrates

4.3 g

of which is sugar

3.9 g

Fibre

2.3 g

Protein

11.7 g

Salt

0.68 g