Set the table for supper with hassle-free, restaurant quality ready meals delivered straight to your door
You don't have to be a world class chef to make amazing suppers at home.
No ordinary frozen meals
These are award-winning, chef designed, restaurant quality suppers made in the heart of Lancashire.
Simply place your meal in the oven, set the table, pour the wine and enjoy!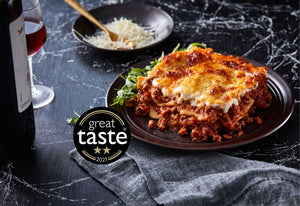 FAQ
Why frozen?
Freezing our Suppers means that we lock in the great taste and flavours to ensure you get the tastiest food. Click here for more info on why we freeze our meals.
How do I cook my suppers?
Our suppers need to be cooked from frozen in the oven to make sure they taste like restaurant quality, just like our chefs designed them to taste! Make sure you preheat your oven and follow the cooking instructions on each Supper packaging, but remember that these are a guide and may differ from oven to oven.
Join 100's of others who have already set the table for supper